---
Bob Barr's Believe It or Not
The Washingtonpost
LLOYD GROVE
June 13, 2002
We never realized that that Rep.Bob Barr -- the Georgia Republican who so despised Bill Clinton that he demanded his impeachment before the Monica Lewinsky scandal -- was such a delicate hothouse flower. Well, it turns out that Barr was deeply hurt by all those slings and arrows during his 1998 ordeal as a Republican impeachment manager.
Barr was so wounded, in fact, that he has filed suit in a Washington federal court against the former president, Clinton loyalist James Carville and politically active pornographer Larry Flynt seeking compensatory damages "in excess of $30 million" for "loss of reputation and emotional distress" and "injury in his person and property" allegedly caused by these three -- who Barr claims conspired to "hinder [the plaintiff] in the lawful discharge of his duties."
When Barr's normally media-friendly lawyer, Judicial Watch president Larry Klayman , initially declined to comment on the lawsuit, we sensed that something highly unusual was afoot. The suit was filed very quietly back in March, but didn't come to light until yesterday, when Flynt issued a press release. Maybe Barr, who was mum yesterday, thought the publicity wouldn't help his tough primary race against Rep. John Linder, another Republican incumbent, in their freshly re-drawn congressional district.
Defendant Flynt, meanwhile, declared : "This time, Barr has kicked the wrong dog."
Defendant Carville told us : "To call this suit 'frivolous' would be to elevate the status of 'frivolous.'"
Clinton's attorney, David Kendall, said :"The claims have no legal merit and will be defended vigorously."
In due course, the strangely reticent Klayman said : "I don't wish to comment on the substance of the case. However, it is serious, and the congressman is confident of prevailing."
---
Bob Barr's emotional distress
Salon
ANTHONY YORK
June 14, 2002
Clinton's most ardent foe sues him for $30 million -- while championing a bill against frivolous lawsuits.
When the news finally broke -- because porn magnate Larry Flynt sent out his own press release -- that Rep. Bob Barr, R-Ga., had filed a lawsuit in March against Bill Clinton, pundit James Carville and Flynt for $30 million, claiming "loss of reputation and emotional distress," the timing couldn't have been much more awkward for Barr. That very day, he was championing a bill that would cap damage awards for "pain and suffering" at $250,000.
This week, at a hearing of the House Judiciary Commercial and Administrative Law Subcommittee, which he chairs, Barr heaped praise on a bill that would limit so-called non-economic medical damages to $250,000, saying "a national liability insurance crisis is ravaging the nation's healthcare system."
So how can someone who wants to limit awards for pain and suffering sue the former president and others for a whopping $30 million in emotional distress?
---
Bob Barr alleges defamation in suit against
Clinton, Carville and Flynt
The Atlanta Journal-Constitution
June 14, 2002
The Associated Press
Rep. Bob Barr, R-Ga., is suing former President Clinton, Democratic analyst James Carville and Hustler magazine publisher Larry Flynt, contending they harmed his reputation and caused him emotional distress during the Clinton impeachment.
Barr, a vigorous Clinton critic who called for the president to resign, is seeking at least $30 million, along with attorney's fees and other costs.
He filed the lawsuit March 7 in U.S. District Court. Flynt, who says he was notified last week, made it public this week.
"It's ridiculous," Flynt said Thursday in a phone interview from his Los Angeles home. "He's been out of the limelight for a while so maybe he's looking for some attention."
The lawsuit, filed along with various news articles and television transcripts, alleges the three defendants took part in a "common scheme and ongoing conspiracy to attempt to intimidate, impede and/or retaliate" against Barr and other House impeachment managers.
Specifically, it accuses Carville of providing Flynt with FBI files and other classified information on Barr's private life for use in a smear campaign. It alleges Clinton approved of the actions.
"I don't know if it's more silly or more frivolous," Carville said. "It's just a political stunt. I think the best thing to do is let the courts handle it."
Flynt printed a 27-page story in Hustler alleging the congressman was a hypocrite who embraced family values in public but didn't follow those standards in his own life.
Flynt denies having contact with Carville or anyone else at the White House, insisting most of the information came from a private investigation and court documents from Barr's divorce.
Barr said in a statement, "James Carville can preach his lies about people on television and Larry Flynt can print whatever he wants in the pages of his smut magazine, but at the end of the day they are going to be held accountable." He said, "Their lies, smears and intimidation will end, and I look forward to this case moving forward."
Democratic-friendly redistricting has pushed Barr, first elected from his suburban Atlanta district in 1994, into a primary fight against fellow GOP Rep. John Linder. The primary election is Aug. 20.
Carville said he suspects Barr filed the lawsuit for political gain among conservative Georgia Republicans.
---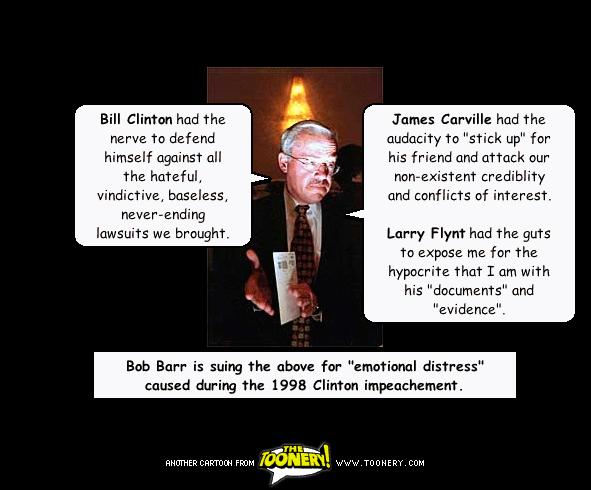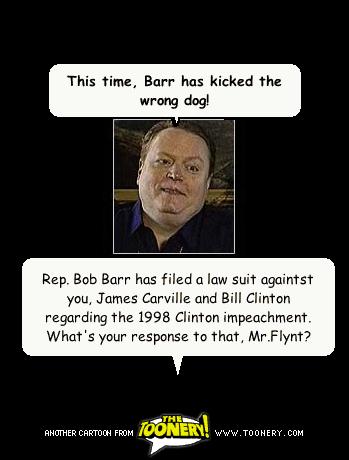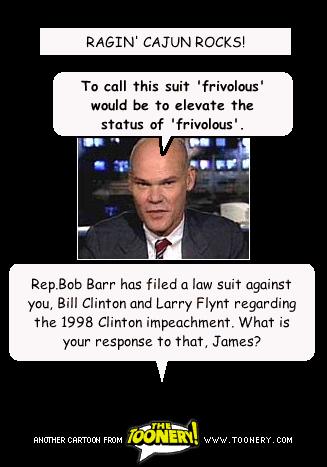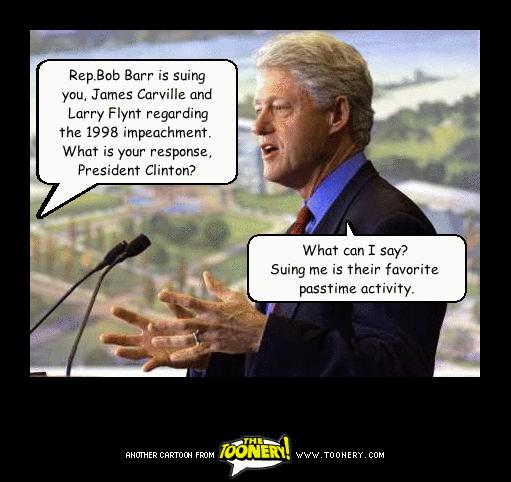 ---


---