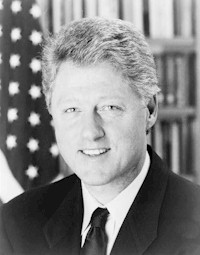 W illiam is his first name whose
I ntelligence always shines through.
L ovable personality he has,
L uring the hearts of mass.
I ngenious is his insight into the future
A nd a wonderful leader he is to nurture,
M aking the world better in its stature.

J oyous is he when he chatters and
E nlightening is his hearty laughter.
F iends of opposition he faces -
F earless, yet, of their bases.
E ver working for worthwhile matters
R elieves him of his constant battles.
S erene is his sense of charm,
O ppressing the forces of harm which
N ever cease from dawn to dawn.

C helsea is the apple of his eye whose
L ove reigns supreme in his life.
I ntrepid is he against evil factors and
N ovel is his thinking and approach
T o the problems most commoners reproach.
O vation he deserves is exemplary,
N ot to mention the same for Hillary.